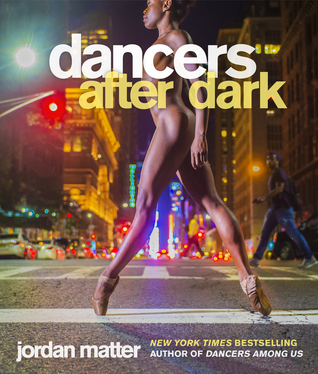 Title: Dancers After Dark
Author: Jordan Matter
Rating: 4.5/5
Expected Publish Date: October 18, 2016
Summary:
A photography collection of nude dancers at night from the bestselling photographer of Dancers Among Us - a celebration of the human form and the fearlessness of the human spirit.
Review:
**I received this book as an advanced reader's copy from NetGalley**
Little known fact, I love photography. I've read all the Humans of New York books and follow the creator on Facebook every day. I do take my own pictures and have an Instagram account here, but I'm not in the business. Anyway, this is what led me to request this book, that and the unique subjects of the book.

Yes, everyone in this book is naked, no I did not get it because of that. There is a certain vulnerability in this book, exposing oneself in poses that stimulate while in public, but shrouded in shadow. One of my favorite aspects of this books is that the pictures are marked not first by location, subject, or description, but by a time stamp.
The only negative thing I have to say (that missing .5 on my rating) is that I received it as an ebook and thus pictures that were spread across two pages lost their affect on me. I will be sure to re-read this when it comes out in hardcover to get the full effect.
And please, I recommend to only those over the age of 17.