Jodi Picoult
Website: http://www.jodipicoult.com/
Biography:
Jodi Picoult is the author of twenty-two novels, including the #1 New York Times bestsellers The Storyteller, Lone Wolf, Between the Lines, Sing You Home, House Rules, Handle with Care, Change of Heart, Nineteen Minutes, and My Sister's Keeper. She lives in New Hampshire with her husband and three children.
In 2003 she was awarded the New England Bookseller Award for Fiction. She has also been the recipient an Alex Award from the Young Adult Library Services Association, sponsored by the Margaret Alexander Edwards Trust and Booklist, one of ten books written for adults that have special appeal for young adults; the Book Browse Diamond Award for novel of the year; a lifetime achievement award for mainstream fiction from the Romance Writers of America; Cosmopolitan magazine's 'Fearless Fiction' Award 2007; Waterstone's Author of the Year in the UK, a Vermont Green Mountain Book Award, a NH Granite State Book Award, a Virginia Reader's Choice Award, the Abraham Lincoln Illinois High School Book Award, and a Maryland Black-Eyed Susan Award. She's the 2013-14 recipient of the New Hampshire Literary Award for Outstanding Literary Merit.
Some Favorite Books:
Vanishing Acts: Delia Hopkins has led a charmed life. Raised in rural New Hampshire by her widowed father, Andrew, she now has a young daughter, a handsome fiance, and her own search-and-rescue bloodhound, which she uses to find missing persons. But as Delia plans her wedding, she is plagued by flashbacks of a life she can't recall. And then a policeman knocks on her door, revealing a secret that changes the world as she knows it.
In shock and confusion, Delia must sift through the truth - even when it jeopardizes her life and the lives of those she loves. What happens when you learn you are not who you thought you were? When the people you've loved and trusted suddenly change before your eyes? When getting your deepest wish means giving up what you've always taken for granted? Vanishing Acts explores how life - as we know it - might not turn out the way we imagined; how doing the right thing could mean doing the wrong thing; how the memory we thought had vanished could return as a threat.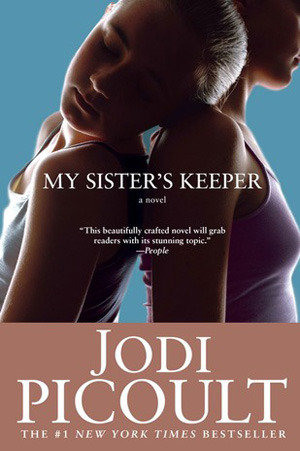 My Sister's Keeper: Anna is not sick, but she might as well be. By age thirteen, she has undergone countless surgeries, transfusions, and shots so that her older sister, Kate, can somehow fight the leukemia that has plagued her since childhood. The product of preimplantation genetic diagnosis, Anna was conceived as a bone marrow match for Kate -- a life and a role that she has never challenged... until now. Like most teenagers, Anna is beginning to question who she truly is. But unlike most teenagers, she has always been defined in terms of her sister—and so Anna makes a decision that for most would be unthinkable, a decision that will tear her family apart and have perhaps fatal consequences for the sister she loves.
Nineteen Minutes: Sterling is an ordinary New Hampshire town where nothing ever happens--until the day its complacency is shattered by an act of violence. Josie Cormier, the daughter of the judge sitting on the case, should be the state's best witness, but she can't remember what happened before her very own eyes--or can she? As the trial progresses, fault lines between the high school and the adult community begin to show--destroying the closest of friendships and families.
Nineteen Minutes asks what it means to be different in our society, who has the right to judge someone else, and whether anyone is ever really who they seem to be.