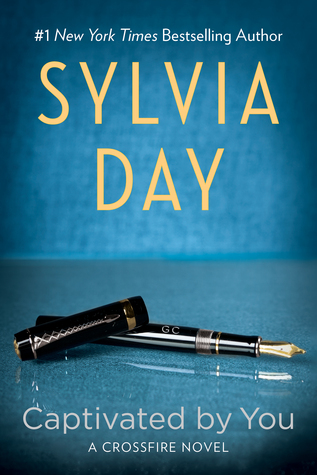 Title:
Captivated By You
Author:
Sylvia Day
Series:
Crossfire (#4)
Rating:
4/5
Summary:
Gideon calls me his angel, but he's the miracle in my life. My gorgeous, wounded warrior, so determined to slay my demons while refusing to face his own.
The vows we'd exchanged should have bound us tighter than blood and flesh. Instead they opened old wounds, exposed pain and insecurities, and lured bitter enemies out of the shadows. I felt him slipping from my grasp, my greatest fears becoming my reality, my love tested in ways I wasn't sure I was strong enough to bear.
At the brightest time in our lives, the darkness of his past encroached and threatened everything we'd worked so hard for. We faced a terrible choice: the familiar safety of the lives we'd had before each other or the fight for a future that suddenly seemed an impossible and hopeless dream...
Review:
I LOVE this series. Seriously. I hate the idea and writing of everything that has to do with Fifty Shades of Grey, but the Crossfire series actually has substance on top of the sex scenes. Gideon is just... wow, what a man. His demons just make me love him more. And Eva, she's perfect in all of her imperfections.
There are two reasons why I gave this book a 4 out of 5 instead of the full rating: POV shifts and lack of problem resolution. First, the POV shifts aren't big, just jumping one chapter for Gideon and one for Eva and so on, however it's kind of a pet peeve of mine and it wasn't done in the first three books of the series. On the second point, I mean it's the repetitive problems we've been seeing for four books now with little to no progress, but there was some progress I suppose.
All in all I cannot wait to read the fifth and final book which just came in the mail!